Practice Areas
Personal Injury
LA Injury Lawyers: Don't Wait to Seek Legal Help
Speak to a personal injury lawyer right away after an accident while the details are still fresh in your mind. The earlier you discuss the details of your accident, the more likely you are to receive maximum compensation. Insurance companies start building a case against you immediately after an accident. They don't want to pay. Their tactics are designed to maximize their own profit. We know! We used to work as insurance industry lawyers, but now we represent people who have been injured. Call now for a FREE case evaluation and consultation: 310-312-1860 or submit this contact form. 
Do you have a case? What are your chances of winning? Contact Lederer & Nojima for answers. 
Whether through verdict or settlement, Lederer & Nojima has a stellar record and a hard-won reputation for excellence throughout California courts. If we represent you, we will collect nothing unless we win your case.
Our Los Angeles personal injury attorneys are experienced, committed and successful. Regardless of the personal injury you have suffered, we have the necessary skills to aggressively fight on your behalf. Our areas of practice are comprehensive. From bus crashes and motor vehicle accidents to school yard injuries and slip and fall incidents, we are experienced. We have won millions of dollars for our clients. We may be able to do the same for you.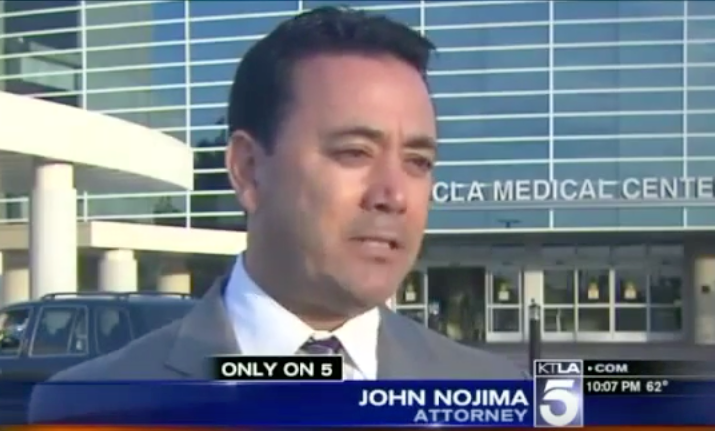 Southern California Lawyers for Even the Most Serious Cases
We have handled innumerable wrongful death cases as well as personal injury cases involving long-term, partial or total disability. In all personal injury and wrongful death cases, our lawyers are dedicated to maximizing compensation available to victims and family members. This may mean holding multiple parties liable.
Our lawyers, team of experts and investigators carefully examine the immediate as well as the long-term impact that an injury or a fatality has had. Through diligent investigation, we work to recover the lost contributions an injured or deceased person made and would have made to a family before the incident. This may include lost wages, the value of household services, and the value of comfort, care, and companionship. Though many of these are difficult to put a price tag on, we are dedicated to doing whatever we can to ease a grieving family's burden.
You may have been injured in your Los Angeles backyard by a defective lawn mower or other tool or appliance; your child may have been bitten by a neighbor's dog; perhaps you were at a Los Angeles-area mall and suffered a slip and fall accident; you may have been on the 405 Freeway and suffered in a traffic accident; a Los Angeles Metro train may have caused you serious injuries. No matter how your injuries were caused, our lawyers may be able to get you justice and maximum compensation.
---
OVERVIEW
---
BAR FIGHT
---
BURNS
---
BICYCLE ACCIDENTS
---
SCHOOL INJUCRIES
---
BRAIN INJURIES
---
VEHICLE ROLL OVER
---
PESONAL INJURIES
---
CONSTRUCTION LITIGATION
---
CALIFORNIA BUS
---
WILDFIRE
---
BOUNCE HOUSE
---
CITY BUS
---
MASS TRANSIT CRASS
---
DOG BITE
---
"Excellent and honest attorney."